Search for the New DIE/OR Official Logo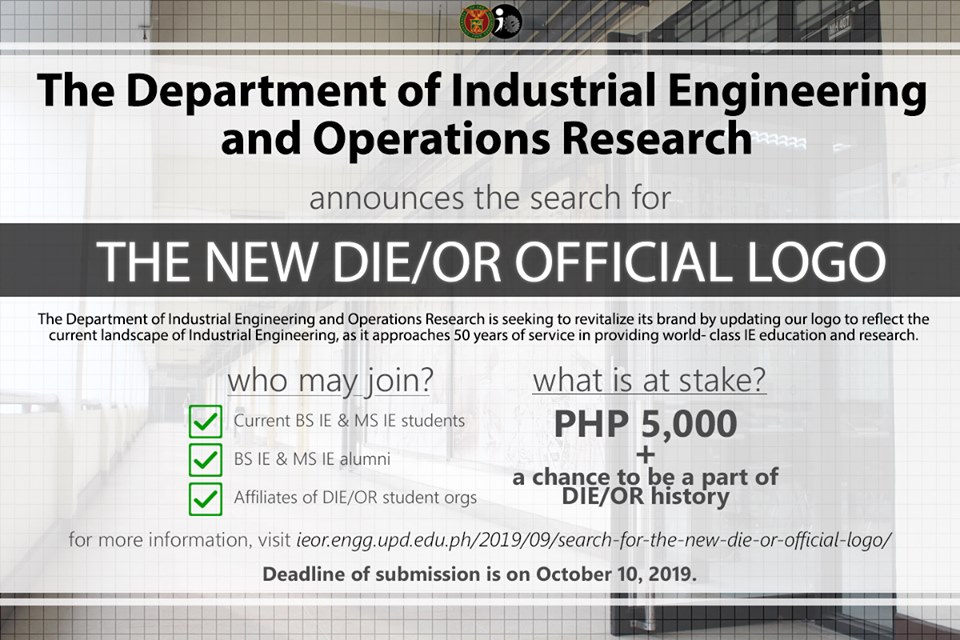 The Department of Industrial Engineering and Operations Research is seeking to revitalize its brand by updating our logo to reflect the current landscape of Industrial Engineering, as it approaches 50 years of service in providing world-class IE education and research.
Current students, alumni, and the UPD DIE/OR community are encouraged to submit their designs that will encapsulate the department's four tracks (Production Systems, Operations Research, Information Systems, Human Factors and Ergonomics) and its mission and vision into one symbol.
Mechanics:
Participants may join the search for the new logo as individuals, teams, or as organizations. Each entrant is limited to at most three (3) submissions.
All submissions must be original and must NOT be based on or derived from any pre-existing or third-party designs.
All submissions shall become the property of the DIE/OR, and, by submitting, entrants waive any future copyright claims.
Upon submission, entrants authorize the DIE/OR to publish the winner's name/s and relevant personal information.
The Department reserves the right to modify the winning logo according to its prerogative.
Entries should not be uploaded or distributed in any forms of media by the entrants or their supporters before and after submission.
The winning entry shall be awarded PHP 5,000 and a Certificate of Recognition, to be chosen by a Selection Committee to be appointed by the Department.
The decision of the Selection Committee shall be final.
Submission Guidelines:
All designs should be submitted in jpeg and pdf format with a resolution of 300dpi.
The selected winner MUST submit a scalable vector version of the winning design adaptable for electronic and print media, for reproduction on small and large surfaces, and for use in color or in grayscale.  (e.g., in Adobe Illustrator, Photoshop, InDesign, etc.).
Download, print, and sign the Waiver Form (https://tinyurl.com/DIEORLogoContestWaiver) for each individual.
Download, print, and fill in the Entry Form (https://tinyurl.com/DIEORLogoContestEntry).
Submit digital copies of all entries to mccohen@up.edu.ph with the subject field "UPD DIE/OR Logo Design Contest – <ENTRANT NAME/TEAM NAME/ORGANIZATION NAME>" in PDF form. All entries under the same individual/team must be included in only one email.
Deadline of Submission: October 10, 2019, 11:59PM
Selection Criteria:
The Selection Committee will evaluate all entries based on the following criteria:
Relevance to the Theme
Originality & Uniqueness
Professional Aesthetics & Appropriateness